by Veronika Kohoutová · Published March 1, 2022 · Updated March 2, 2022
Most people involved in Muggle quidditch don't earn money for it, and positions are almost always volunteer roles. This is not the case for QuidditchUK's president anymore.
QuidditchUK decided to make this change after consulting with financial and legal professionals. One of the reasons for the decision was that the requirements for the role demand more experienced professionals than was suitable for just a volunteer role.
By introducing this financial element, it does give incentive and space for someone to make room for the role instead of fitting it around existing commitments.
The Executive Management Team has therefore decided that the President of QuidditchUK will get £5,000.00 per annum for the part-time job. It should take 10–12 hours per week. The president will also be paid as a company director rather than as a regular employee, which makes a difference for taxes, pensions, and insurance.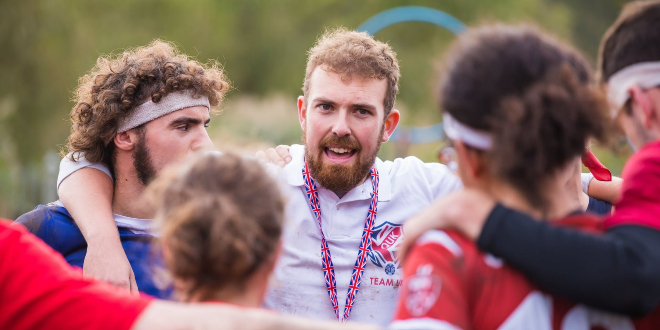 While the offered amount isn't nearly enough for someone to take on the role full time, it does give realistic flexibility for an experienced professional to commit 10-15 hours a week purely to QuidditchUK. Paying the [p]resident also allows them to focus on jobs outside of managing the sport, such as forming new partnerships, developing programmes, or directly traveling and outreaching to new or struggling clubs across the UK.
The Executive Management Team will require the President of QuidditchUK to chair weekly meetings with QuidditchUK leadership; concentrate on developing and maintaining key partnerships; set and try to succeed at short- and long-term plans and goals, such as last year's plan; develop new sources of income and new programs and projects; recruit new directors to manage different parts of QuidditchUK; and represent QuidditchUK at the national and international level.
The president will operate as the head of the organization, but there will still be an Executive Management Team and member club captains, according to the QuidditchUK Constitution. Anyone who wants to apply for the position has until March 6.

Support us on Patreon
Veronika Kohoutová
I played Muggle Quidditch for the Prague Pegasus and on our national team in the European Games 2019.
Social:
Porpentina Tina Goldstein
Rita Skeeter
1995
1997
1996
MuggleNet is an unofficial Harry Potter fansite.
Please email us if you have any questions or concerns.
© 1999–2022 MuggleNet.com. All rights reserved.
Privacy Policy | COPPA Policy | Terms of Use | Feedback
MuggleNet is a participant in the Amazon Services LLC Associates Program and Bookshop.org's affiliate program, affiliate advertising programs designed to provide a means for sites to earn advertising fees by advertising and linking to amazon.com and bookshop.org.