May 25, 2022: The Central Directorate of National Savings (CDNS) on Wednesday achieved the target of issuing Rs990 billion in fresh bonds in the last 10 months of the current fiscal year 2021-22 from July 1st to May 24th.
The CDNS had set an annual gross receipt target of Rs980 billion from July 1 to June 30 of the previous fiscal year 2020-21 to promote savings in the country, the senior official of CDNS told APP here.
The senior official said the CDNS had set a Rs250 billion annual collection target from July 1 to June 30 for the year 2020-2021 as compared to Rs352 billion for the previous year (2019-20) for the same time span to enhance savings in the country.
The CDNS had set a Rs352 billion annual collection target for the year 2019-20 as compared to Rs350 billion for the previous year (2018-19), he said.
Replying to a question, he said the CDNS has decided to start Islamic finance and will start implementing its procedural work from next month to provide the facility of Islamic finance in the institution.
In this regard, under Islamic Sharia Compliance, Prize Bonds and Savings Certificates will be issued for investment in accordance with Sharia Principles, he said.
The CDNS will provide Islamic investment opportunities to its consumers in an institution like the rest of the private and public sector banking, where Islamic sharia business has now reached 20 percent.
Replying to another question, the senior official said that (CDNS) has started working to increase new investment opportunities and promote digital investment through many new projects.
The CDNS in collaboration with the State Bank of Pakistan is developing digital Prize Bonds, which will be available through online electronic channels, he said.
He said the CDNS is in process of launching its first Mobile App for online purchase and encashment of National Savings Schemes.
The official said that for better and more efficient transfer of funds electronically, the CDNS is going to adopt RAAST in the current month for the speedy flow of funds through its financial tributaries, he said.
Initially, the CDNS has opened three separate accounts in the State Bank of Pakistan (SBP) to avoid/stop direct access to the Non-Food Account-1 for its Alternative Delivery Channel (ADC) operations, 1Link Payment, UPI Payment, and RAAST payment.
The Finance Division will allocate budgetary ceiling on a daily basis and the CDNS will operate within the allocated funds limit. Accordingly, the PFM Act, 2019 is adopted in its true spirit for the Alternative Delivery Channels of CDNS.
He informed that the CDNS interest rates were linked with the PIB policy set by the SBP. He said the CDNS had opened new avenues for public and private investment to document the country's economy and ensure transparency in the financial system.
Replying to another question on the current revision of CDNS certificates' profit rates, he said the CDNS had maintained the same interest rate on the savings certificates investment due to the market situation and as per Pakistan Investment Bonds (PIB) policy decision.
APP
32957
May 26, 2022: The Afghan Taliban are stepping up coal exports to Pakistan and have raised duties on sales, officials said, as the group aims to generate more revenue from its mining sector in the absence of direct foreign funding.
The move comes with global coal prices near record highs after top exporter Indonesia imposed a shock ban on exports earlier in 2022 and then Russia invaded Ukraine, pushing prices up further.
No country has officially recognised the Taliban government, which has meant international financial assistance has dried up even as the country faces a humanitarian and economic crisis.
The hardline Islamist movement is now banking on its natural resources to survive. Landlocked Afghanistan has large mineral and fossil fuel deposits, most of them untapped.
"Coal exports have increased because we have paved the way for traders," said finance ministry spokesman Ahmad Wali Haqmal.
He said officials had collected around 3 billion Afghanis ($33.80 million) in customs revenue on more than 16 billion Afghanis worth of coal exports in the last six months.
As well as higher sales, the tax on coal exports was last week increased to 30% from 20%, according to an official letter seen by Reuters, the contents of which were confirmed by Haqmal.
The Taliban announced their first annual budget earlier this month, saying they would depend solely on local revenue – a big task for a country dependent on foreign assistance for the last two decades.
Haqmal said exports and revenues were far higher than under the last government, which was ousted as the Taliban swept to power after U.S.-led foreign forces withdrew from Afghanistan last year.
Khan Jan Alokozi, an official at the Afghanistan Chamber of Commerce and Investment (ACCI) told Reuters that he believed revenues had also increased because the Taliban had eliminated some corruption.
While the regime plans to award mining contracts for precious minerals, coal is already paying dividends.
Four local companies are producing coal, mostly in northern provinces, while Pakistan has increased imports of coal from Afghanistan, Mufti Esmatullah Burhan, acting Deputy Minister for Mines and Petroleum, told Reuters.
Importing coal from Afghanistan could help Pakistan reduce costs and dependence on supplies from South Africa, which is facing logistical challenges given the higher demand for fuel from Europe.
Pakistan's commerce ministry did not reply to a Reuters request for comment.
South Africa currently provides almost three-quarters of Pakistan's coal needs, mostly for the country's fledgling cement industry.
One Pakistani official, speaking on condition of anonymity, said Pakistan had increased coal imports from Afghanistan and could be importing up to 500,000 tonnes per month.
The official said that due to the country's dwindling foreign exchange reserves and higher international prices in the wake of the war in Ukraine, Pakistan is not buying as much liquefied natural gas (LNG) on the spot market.
Engineer Asif Khan, a Pakistani coal dealer who imports coal from Afghanistan, said the business was doing well but Afghan traders had raised coal prices when the Taliban increased taxes. 
Reuters
May 26, 2022 (MLN): The total liquid foreign exchange reserves held by the country dropped by $11 million or 0.1% WoW to stand at the lowest level of $16.1 billion since Dec 06, 2019, during the week ended on May 20, 2022, compared to $16.16bn in the previous week, weekly data released by the State Bank of Pakistan (SBP) on Thursday showed.
The data further revealed that reserves held by the central bank during the week dipped by $75mn or 0.7% WoW to clock in at the lowest level of $10.1bn since June 19, 2020, mainly due to external debt payments.
On the contrary, the reserves of commercial banks went up by $64mn or 1.1% WoW to $6bn.
Meanwhile, it is important to note that, the current level of foreign currency reserves is barely enough to cover 1.48 months of imports.
On the forex front, the continuous decline in foreign exchange reserves has created a strong spell of currency depreciation as the local unit has weakened by 8.1% MTD to stand at PKR 202.01 per USD.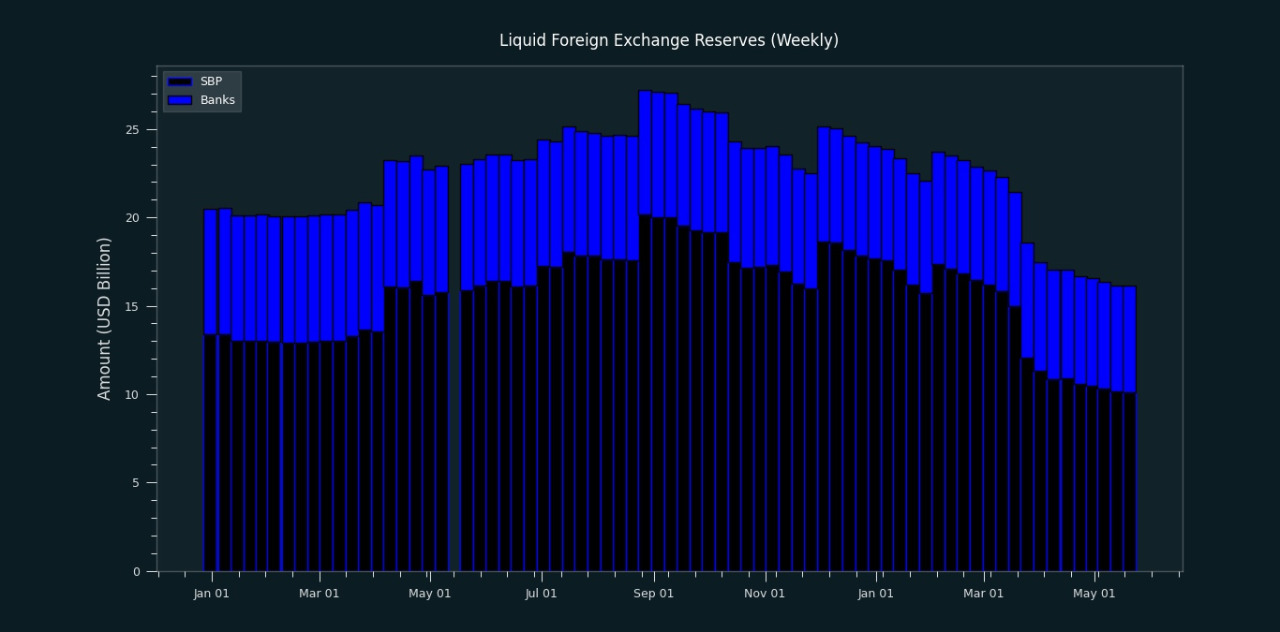 Copyright Mettis Link News
May 26, 2022 (MLN): The federal government on Thursday, has decided to increase petroleum product prices by Rs30 per litre to meet IMF demand.
As per the announcement made by Finance Minister, the new price of petrol and High-Speed Diesel (HSD) will stand at Rs179.86  and Rs 74.15 per litre, while Kerosine oil and Light Diesel (LDO) will cost around Rs155.56 and Rs148.31 per litre respectively. The new prices will take effect from tonight May 27, 2022.
Earlier, the minister said that the IMF team emphasized the importance of rolling back fuel and power subsidies, which were given by the previous administration in contravention of its own agreement with the Fund. Govt is committed to reviving the IMF programme and putting Pakistan back on a sustainable growth path.
Following the announcement, the portion of subsidy on petrol cut by Rs30 to Rs17 per litre, on diesel by Rs30 to Rs56 per litre. On kerosene and on LDO subsidy has been reduced by Rs30 to Rs21 and Rs37 per litre respectively
Copyright Mettis Link News
May 26, 2022 (MLN): Pakistan equities turned green on Thursday as the former Prime Minister called off the long march while giving an ultimatum to hold early elections, witnessing an intraday high of 42,606.14 to settle the benchmark KSE-100 index at 42,541.71 with a gain of 529.05 points.
In the early hours, investors opted to remain sideways as the IMF has clearly subjected the release of tranche to the removal of energy subsidy.
Throughout the session, the index traded in a range of 705.42 points, or 1.68 percent of the previous close.
Of the 96 traded companies in the KSE100 Index 78 closed up 16 closed down, while 2 remained unchanged. The total volume traded for the index was 133.68 million shares.
Sectors propping up the index were Technology & Communication with 157 points, Cement with 74 points, Commercial Banks with 63 points, Fertilizer with 32 points, and Oil & Gas Marketing Companies with 30 points.
The most points added to the index were by SYS which contributed 94 points followed by TRG with 39 points, LUCK with 34 points, UBL with 19 points, and MTL with 18 points.
Sector-wise, the index was let down by Leather & Tanneries with 6 points, Miscellaneous with 2 points, Automobile Parts & Accessories with 2 points, Real Estate Investment Trust with 1 point, and Modarabas with 1 point.
The most points taken off the index was by COLG which stripped the index of 14 points followed by ABL with 14 points, BAHL with 7 points, INDU with 6 points, and SRVI with 6 points.
All Share Volume increased by 107.02 Million to 347.07 Million Shares. Market Cap increased by Rs.65.75 Billion.
Total companies traded were 351 compared to 324 from the previous session. Of the scrips traded 263 closed up, 63 closed down while 25 remained unchanged.
Total trades increased by 34,522 to 137,210.
Value Traded increased by 1.47 Billion to Rs.9.04 Billion
Top Ten by Volume
 
Top Sector by Volume
 
 
Copyright Mettis Link News
 
May 26, 2022 (MLN): The downward journey of the Pakistani rupee (PKR) continued on Thursday against the US dollar in the interbank market as the currency settled the trade at PKR 202.01 compared to yesterday's closing of PKR 201.92 per USD.
Throughout the session, PKR traded in a range of 1.4 rupees per USD showing an intraday high bid of 202.50 and an intraday low offer of 201.90.
Delay in the IMF bailout package is continuously putting pressure on the domestic currency as Pakistan is slowly running out of dollars.
From the previous week, everyone eying the Doha talks, however, the talks ended without any assistance package announcement rather the package has been subjected to the removal of energy subsidy.
The country needs cash due to depleting foreign exchange reserves. Delay will have a chain effect, Asad Rizvi, the former Treasury Head at Chase Manhattan said.
With few choices Political uncertainty is hurting the economy, he added.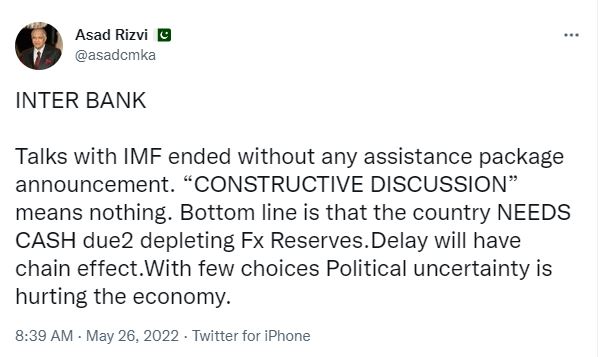 From July'21 to date, the local unit has lost Rs44.46 against the USD. Similarly, the rupee fell by Rs25.49 in CYTD, with the month-to-date (MTD) position showing a decline of 8.08%, as per data compiled by Mettis Global.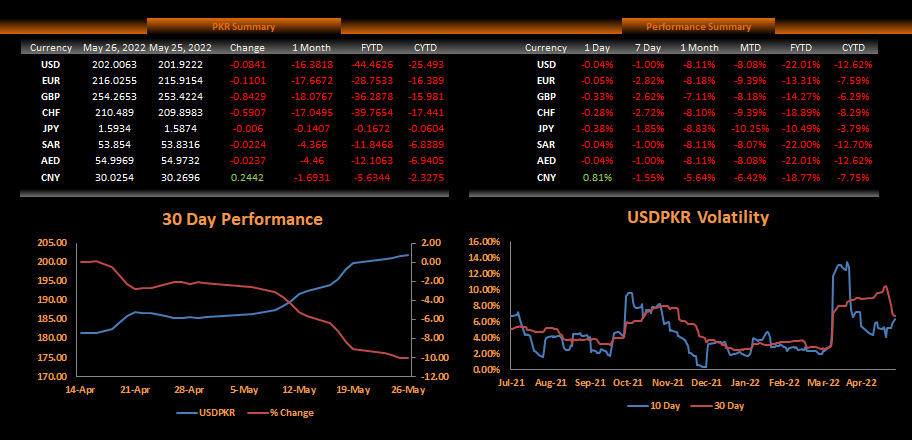 During the last 52 weeks, PKR lost 23.57% against the greenback, reached its lowest at 202 today, and touched its high of 154.39 on May 31, 2021.
Furthermore, the local unit has weakened by 13.53% since its high on July 02, 2021, against EUR while, it has dropped by 14.55% against GBP since its high on July 02, 2021.



In addition, the performance of PKR remained bleak against major currencies in the month to date as it weakened by 10.25%, 9.39%, 9.39%, 8.18%, 8.08%, 8.07%, and 6.42% against JPY, EUR, CHF, AED, SAR, GBP, and CNY, respectively.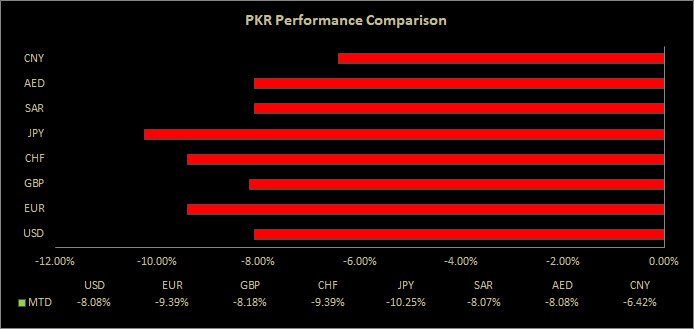 Within the open market, PKR was traded at 202/203.5 per USD.
Meanwhile, the currency lost 84 paisa to the Pound Sterling as the day's closing quote stood at PKR 254.27 per GBP, while the previous session closed at PKR 253.42 per GBP.
Similarly, PKR's value weakened by 11 paisa against EUR which closed at PKR 216.03 at the interbank today.
On another note, within the money market, the overnight repo rate towards the close of the session was 12.75/12.85 percent, whereas the 1-week rate was 13.65/13.75 percent.
Copyright Mettis Link News